---
For this post I decided to put together a random assortment of 5 amazing products & inventions that most people probably haven't heard of.  Make sure you check them out and read about them, because I guarantee at least one of these can benefit your life in a positive way.  Enjoy!
---
1) Throwable Panoramic Ball Camera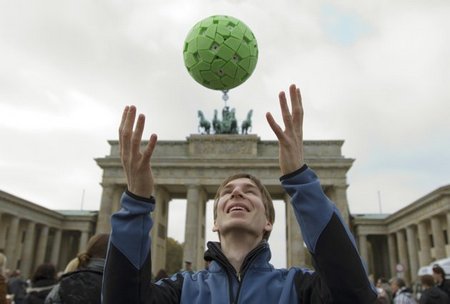 This thing is sweet!  The patent is still pending and they haven't gone into production yet but this is definitely the next stage of video cameras.  With one toss of this camera up in the air, you can capture a 360 degree panorama video/picture of everything around you, in every direction!  Here's a sweet demo video as well as a link to the official camera homepage.
Visit the official page for this amazing camera concept: http://jonaspfeil.de/ballcamera
Video Demo of the Panorama Throwable Ball Camera
---
2) EcoStrip Power Saving Surge Protector
These surge protectors are going to revolutionize power consumption.  EcoStrip is an eco-friendly power strip that saves energy and saves money all on its own. It's the solution for Green Offices and perfect sustainability programs because the results are automatic, significant, and boost the bottom line. They also plant new trees for every power strip sale they make, so not only are they conserving energy, they are giving back to the planet with every sale.  Click the banner below to learn more about these amazing money-saving power strips.
Click here for the EcoStrip official website.
---
3) Clocky Alarm Clock On Wheels
If you are anything like me, then the hardest part of your day is waking up and refusing the urge to hit the "sleep" button on your alarm clock for 2 hours.  Well, fortunately there is a sweet invention that will prevent that from happening.  The clocky alarm clock on wheels takes off in motion when your alarm goes off, so instead of lazily reaching over for the snooze button, you've got to get out of bed and track it down if you want to stop the ring.  By the time you catch it, you are already out of bed, so might as well stay up!   There are multiple colors and options available.  Click the picture or the link below to check them out!
Clocky Alarm Clock Video Demo
---
4) Portable Solar-Powered Battery Pack, Flashlight, & Lantern
This is a must-have for emergencies, camping, outdoor adventures, roadtrips, and any other outdoor excursions you can think of.  This amazing little product uses solar power to re-charge your cell phone, Droids, Ipods, Ipads, Iphones, and any other portable device with a usb charge connection.  In addition to that it also has a built in solar powered flashlight and lantern as well.  I strongly recommend that everyone gets one of these, because you never know when you'll need it, but when you do, you'll be really pissed off if you don't have one!
Solar Portable Battery Pack with Flashlight and Lantern
---
5) The Best Breakfast Sandwich Maker – 4 Slot Egg & Muffin Toaster
Wow its about time someone put 2 and 2 together to make the most efficient breakfast cooking accessory known to modern man.  This wonderful all-in-one egg cooker and toaster is perfect for people with a busy schedule who still take breakfast seriously but don't have much preparation time.  It comes with a great 4 slot toaster for toast, english muffins, etc as well as a 2-egg gridle which is perfect for cooking up eggs and sausage for an early morning breakfast delight.  Check out the specifications by clicking on the link below.  It also comes in a 2-slot toaster, 1 egg model.
Back to Basics TEM4500 4-Slot Egg-and-Muffin Toaster